So you've gone through school and passed an exam to become a real estate agent.
You even got yourself hired by a renowned brokerage, and are ready to start building your career.
The next few steps will help you build a long, successful business as a real estate agent.
Focus on Sellers Not Buyers
Real estate agents have a saying, "listers last"; and it basically tells you that most of your time should be spent helping new clients list and sell their homes.
There are several reasons for this, but the most immediate benefit is that when you deal with sellers, you normally have more time for other clients.
When you advertise your services to sellers, there is a good chance that you will end up getting both buyers and sellers.
If your name appears in an ad for a listing agent, unrepresented sellers will reach out when they see the poster.
Now since you can only sell a property listing to one buyer, that still leaves you with a few other clients who also reached out.
These other clients need a buyer agent, and you can offer your services to help them get other homes for sale.
There are times when you want to avoid the stereotype of being a pushy salesman, so you may want to spend more time polishing your writing skills for your listings, and taking good photographs.
Think of yourself as a consultant, and become useful. This will yield good results over time.
Have a Budget
The pressure to score a good first-sale can divert attention from the more important thing; and that is, having a solid budget.
You won't have a long cherished career in residential real estate if you can't keep track of your spending.
It's easy to burn through your money in the early stages before you have good cash flow.
The financial implications could hamper growth in the long run, especially if you work alone rather than for a brokerage.
Speak to more experienced realtors about how they got through the first months and years, and make a point to avoid common mistakes.
The good news is that you don't have to be an expert on budgeting.
Instead, you just need to use the tools available to you to learn and improve.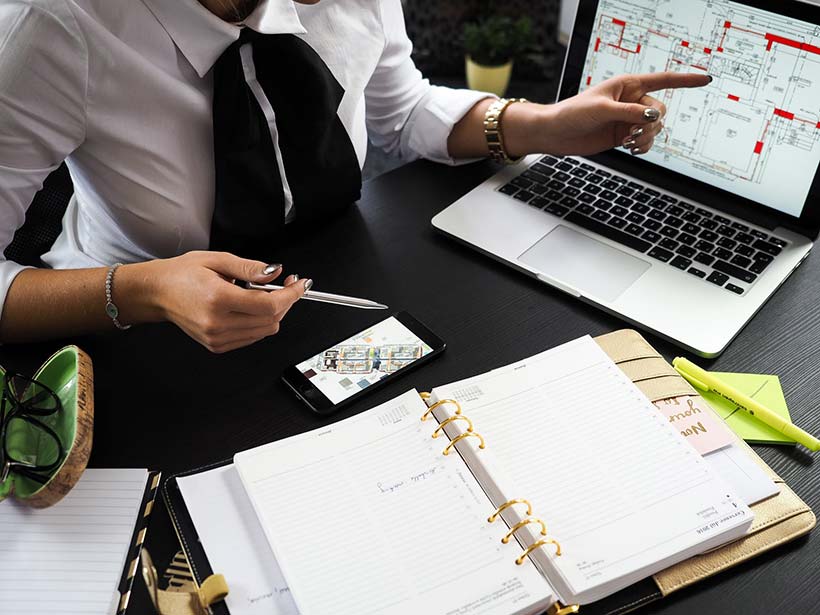 Set Yourself Goals
Are you making plans as a business owner – or as part of a real estate brokerage firm?
Whichever it is, you will be able to measure success more easily when you have a pre-determined set of goals to achieve.
Use all the tools available to you to learn everything  about your niche and your customers.
Develop strategies for engaging new clients, take note of your weak points, and improve your skills through practice.
One of your goals at this point should be to have a stronger presence online, and for your digital creation to be a good reflection of your business.
So how do you create a compelling internet marketing campaign?
The easiest way is to split this goal into smaller manageable goals such as;
Building a website
Social media
Email marketing
Blogging
Networking
Print ads, posters, etc.
Spend enough time looking through every one of your goals, and ignore the urge to do everything yourself.
It is wise to seek help from professionals, so speak to your peers about ways to enhance your online presence for the sake of maximizing publicity for your services.
Market Yourself
Word of mouth is a powerful tool in real estate, and it can help you get clients.
The trick is to let your good work speak for itself, while also encouraging people to spread the word.
To kick things off, start with postcards, business cards, flyers, pens, cups, etc.
Basically any promotional materials that you can distribute to your audience.
Your clients will hear about you from different sources – so just make sure there are numerous avenues for them to learn about your services.
When prospects reach out they want a quick reply, so form a habit of checking emails and calls – and responding immediately.
You will gain a lot from being available when people reach out, and being attentive when dealing with a client.
Lead Generation & Prospecting
The majority of your time will be spent prospecting as you attempt to grow your client list.
When business increases, this time will be spent providing services to clients who have different needs, and this can be a little draining.
However, for the sake of expanding business and building experience, it is important that you still keep the doors open to attract new customers.
In fact, some of the more experienced agents still spend most of their time prospecting, and it is something you never want to get tired of doing.
Conclusion
Don't make assumptions about the real estate industry, or your customers for that matter.
It is best that you learn things as you go along, and deal with each client professionally.
Don't imagine that selling your first property, or telling your best pals about your new job will automatically lead to new referrals (although it would be wonderful if that happened).
It takes time to create success, and it's going to take a bit of effort on your part for people to know about your business.
Make sure you are well represented online, and then focus on making clients comfortable.