You can easily transform your kitchen with a beautiful interior and update the work surfaces with some of the latest materials such as Silestone.
It is a man-made stone, consisting of approximately 95% quartz and other materials to give it impeccable strength.
Not only that, Silestone provides great strength but it is also a flexible and adaptable surface.
If you are looking for a truly versatile worktop material, Silestone quartz is a number one choice.
Is Your Kitchen Outdated?
If you wanted to answer the question, "is your kitchen in need of a Silestone Worktop transformation?", it depends on the type of interior your kitchen has and what makeover you want your kitchen to have.
However, silestone kitchen worktops are ideal to style up any type of kitchen – be it modern or traditional.
Having said this, one of the main items to know if your kitchen is ready to receive stone is that it's already fully installed.
Your cabinets should be fixed to the floors and walls.
In addition, you should have all the appliances that will be in contact with the stone on-site.
This allows the fabricators and installers to know exactly where and how to create the cut outs for your worktops.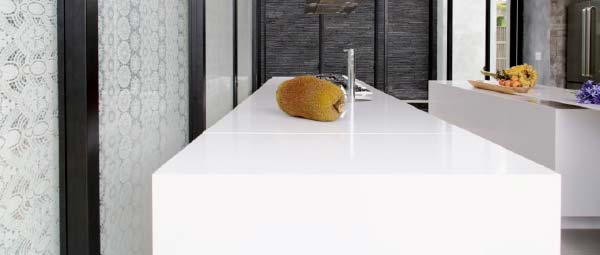 When it comes to aesthetics, Silestone comes in a wide range of colours – from neutral shades to bright and vivacious hues.
So, it can fit into any kitchen style or theme.
But before you decide to buy Silestone, you must know the following facts, as well as tips, to maintain and take care of this kitchen worktop material in the years to come:
Toughest Stone
Silestone is tougher than granite, as it's a non-porous material with resin content to make it impact resistant and malleable.
While both materials provide stout durability, Silestone is highly resistant to scratches and stains due to its non-porous nature.
In addition, Silestone surfaces come with exclusive bacteriostatic protection which ensures hygiene is always a must.
Similarly, the brand offers N-Boost treatment on all its materials which act as a liquid repellent.
The result is achieved by developing a treatment that acts at a molecular level within the stone.
Seamless Fabrication
Silestone Calacatta Gold is a gorgeous kitchen stone to add a sophisticated flair to your kitchen, just like any natural stone.
However, Silestone has a leg up on any sort of natural stone when we talk about large installations.
This is because some of its slabs are fabricated in larger pieces without any seams or fewer seams.
If you want a flawless countertop, it must be on your list.
Not only that Calacatta is the most famous marble in the world but the manufacturer offers the natural look without the maintenance required on natural marble.
Maintenance
Another best thing about Silestone is that it doesn't require any sealant or protective coating to prevent it from heat, stains or scratches.
Routine clean-up is also a breeze with just mild soap and water.
Heat-Resistance
While Silestone claims to be heat-resistant and totally heat-proof, it is advised to not put any hot pan on the surface.
Place a hot pad or trivet before putting a hot pan on it. It will only enhance the longevity of the stone in the long run.
Where to Buy Silestone?
It is best to purchase your worktop material, such as Silestone Statuario or any other worktop material, from a reliable stone supplier.
Comprehensive online stores offer a huge selection or range to choose from, at very reasonable prices.
You must take your time and do some legwork before investing in a kitchen worktop material.
Try to avoid any place that pushes a specific brand or style on you.
There must be no pressure to pick any stone that you don't want.
It is best to look for a place that handles designs, fabrication, installation and sales.
A company that handles all is more likely to work with skilled craftsmen to install your worktop and handle the renovation well.
If anything goes wrong, you can also contact the company to deal with the issue.
Moreover, make sure that the company has been in the industry for years and that they have favourable customer reviews.
Also, ask to see their testimonials or work samples to know more about their previous work before hiring them.