Air conditioners are bound to experience some amount of wear and tear if they are exposed to extreme temperatures and weather conditions.
We know that window units often tend to allow cold air to come into the house resulting in higher utility bills.
According to a Huffington Post article, windows are not the only parts of your home that are prone to leaking air.
Crawl spaces and attic walls keep losing air as well.
Professionally insulating your house could be the most effective way of boosting energy efficiency.
However, you may use an insulated outdoor air conditioner cover to serve the purpose.
Extreme weather conditions do not merely imply snowy winters. It is much more.
It would be a wise move for people living in the freezing northern states of the United States or Canada to use a cover for their air conditioning unit.
You must certainly consider using an air conditioner cover if you are residing in those parts of the world that are prone to blizzards, hail storms, or other unpredictable natural calamities that usually occur during the winter season.
What to Consider When Choosing an A/C Cover
AC covers are useful in preserving your A/C units so that they are in good condition and can provide optimal performance during the next summer season.
Hence, you must invest in a cover that promises safety and durability.
It is a good idea to choose water-resistant and breathable covers.
Breathability is of prime concern in terms of A/C protection.
If your entire AC unit is covered, you must necessarily use a cover that has mesh vents.
Here are some of the most critical factors to consider while choosing an outdoor A/C cover.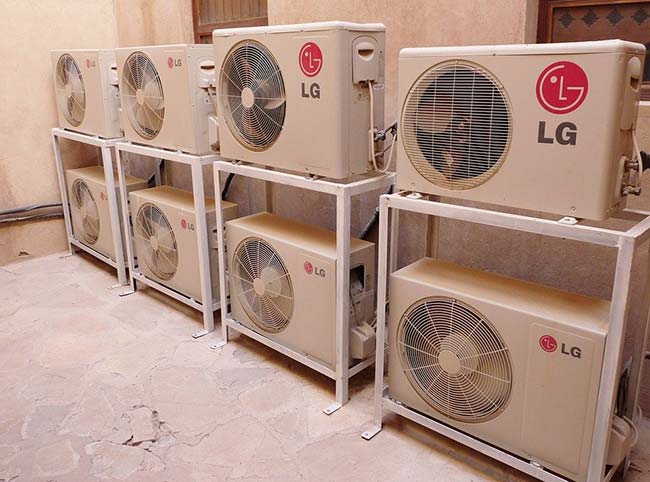 1. Size
Accurate measurements of your outdoor A/C unit must be taken before looking for a cover so that you end up buying an A/C cover that fits correctly and is perfect in size.
We know that an ill-fitting air conditioner cover could not only adversely impact the overall aesthetic ambiance of your outdoors, but it could also allow insects and small rodents to get in easily.
In the event, you are unable to identify the perfect sized cover that fits your air conditioner's unique and precise dimensions, buy one that is slightly bigger but comes with a drawstring, or buckle straps or elastic hem so that all sizing issues are resolved.
2. Water Resistance
Outdoor air conditioner covers help in saving your A/C units from extreme cold disasters that take place in the winter season.
Hence, it is best to choose a water-resistant air conditioner cover so that water is not allowed to seep through or settle into the air conditioner.
This is just right for keeping mould, mildew, and moisture at bay.
3. Easy Installation
You must examine the installation instructions before buying an A/C cover.
Consider reviewing those instructions before opting for a specific air conditioner cover.
4. Porous & Aerated
The breathability of an A/C cover material is of prime importance as discussed above.
You must choose an intact cover that is well-aerated and boasts of being made out of a porous material to facilitate the smooth flow of air.
This would prevent any undesirable stench.
5. Durability
Your AC cover must promise longevity.
It must be accompanied by a warranty stating that it would be lasting for a specific period.
A good quality cover should be having at least, two years of warranty.
6. Insulation
This is critical for window AC units.
Depending on the precise region you reside in, you may require an insulated air conditioner cover to protect the machine from extreme cold conditions.
Conclusion
The argument relating to air conditioner covers doesn't seem to end.
One side firmly believes that A/C units are robust and meant to be outside hence, they do not need any pampering or extra protection in the form of air conditioner covers.
There is yet another side that argues that it is best to be on the safe side than be sorry.
You must use covers to preserve the AC and retain its efficiency.
The choice is yours to make.