With various set-top boxes on the market, you may easily feel a bit confused as to which one you should choose.
However, once you have read this review on the Sky Q 2TB Set-Top Box, you should be able to make up your mind quite easily.
The Sky Q 2TB Set-Top Box is regarded as one of the best set-top boxes on the market.
As Sky+ has been one of the leading brands in this market for quite some time, one can safely say that the Sky Q 2TB Set-Top Box is an improved version, which couples up all the strong points along with several technical improvements.
In fact the Sky Q 2TB Set-Top Box offers all this, along with streaming as well as a number of offline benefits as well.

Sky Q 2TB Set-Top Box in a nutshell
The Sky Q 2TB Set-Top Box is one of the many boxes in the Sky range.
There is the mini version and the 1TB version too.
Needless to say, the Sky Q 2TB Set-Top Box is the high-end option.
This latest version is a slimmer box, which will take up less physical space.
But, with 2TB of storage it can enable you to watch a show, while recording another four shows simultaneously.
It has in fact a storage for up to 350 hours of HD TV. It can also stream on two televisions or tablets.
User Interface & Features
The user interface is a very important aspect when choosing a set-top box.
With a new EPG and user interface, the Sky Q 2TB Set-Top Box may seem to be a bit strange at first, but once one gets used to it, it is a good interface.
One may search for recordings alphabetically, and view them in visual thumbnails, which is much easier than the traditional long list.
The programme information can be viewed on top, and is accompanied by a live picture of the current show.
There is a new feature named My Q, which allows you to find the last show that was watched, and it can proceed from where you had stopped last time out.
Whatever you started but not finished can be easily found.
There are also programme suggestions available, which is something that many viewers enjoy checking out.
Whenever one pauses, rewinds, or forwards a programme, it is possible to see where you are.
This is a welcome improvement in this newer version.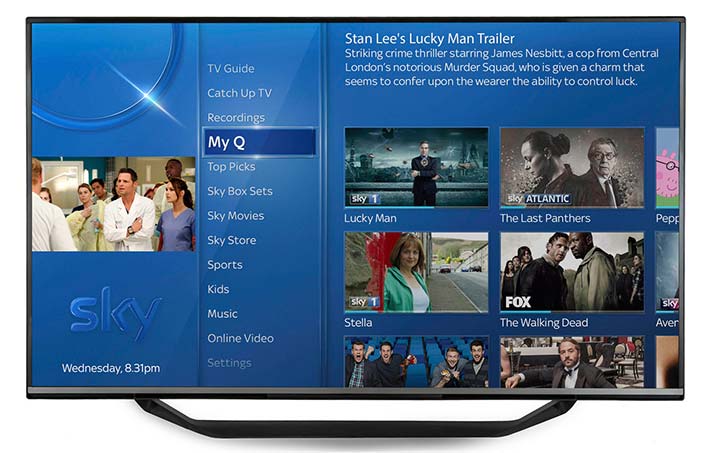 Sky Q Apps
Smart TV features are important for many users and Sky Q set-top boxes come with various useful apps including Sky News, Sky Sports News, Music, Weather and My Photos, to mention a few.
Sky Q Hub
The Sky Q 2TB Set-Top Box will be able to act as a wi-fi hotspot for Sky Broadband customers when used with the Sky Q hub router.
Later, Sky Q will also be working with a powerline network.
The Sky Q Remote Controls
Interestingly, Sky Q set-top boxes come with two remote controls.
Apart from that standard one, there is the Bluetooth Sky Q Touch remote control, which has the main purpose of allowing the user to navigate by means of touch controls, such as by tapping and swiping instead of pushing the buttons.
Price
Prices vary depending on whether one is an existing customer or not.
Existing customers on a multiscreen subscription will need to pay a one-time fee of 99GBP in order to upgrade to Sky Q and to get the 2TB set-top box.
Those who do not have a Sky Multiscreen subscription can get the 2TB box for a 60GBP installation fee.
Alternatively one can get the Sky Q 2TB Set-Top Box without the multiscreen subscription for an installation fee of 199GBP or buy a box from one of the many independent dealers who retail these boxes to allow expatriates to watch Sky Q abroad.
Conclusion
The Sky Q 2TB Set-Top Box is considered to be a TV platform that offers convenience and flexibility.
One can view online and offline and the 2TB box is ideal for those who like to watch several programmes and record others.
The extra storage available in the Sky Q 2TB Set-Top Box is certainly ideal.
There is an extensive range of content available, and the price is quite reasonable.
Obviously the Sky Q 2TB Set-Top Box is the high-end option but considering the fact that it is practically an all-encompassing home entertainment package, it is a very good option for many families and for those who are looking for a system where they can watch whatever they want wherever they are and whenever they feel like it!
In fact one can watch TV abroad in this way, by using a VPN.
It surely cannot get any better because even when you are away from home, you will still be able to watch your favorite shows! So it is literally an anytime, anywhere solution!