Sooner or later, one must move around and find a new place to call it a "home".
People have different reasons and frequency of doing so, but everybody faces the daunting task of moving to a new house once in life.
Because it is an essential yet complicated thing to do, here are the 10 packing tips to make the ordeal less frustrating for a smooth transition of environment:
1. Decide What Not to Take to the New Home
Humans have a knack of accumulating things which might not be as useful as they seem and one realises the burden these "obsolete" gadgets or utensils can cause when moving around.
The best thing to save time, and even earn few bucks, is to sort the things out as per their usage and value.
Those which are a mere waste of space could simply be dumped instead of carrying around or if they might be something which other people may need or want, they can be sold via online sale/purchase platforms.
2. Take Care of Personal Items Yourself
Not everyone is going to care about the things which are very close to your heart.
So instead of lashing out on your siblings or parents in case such things get broken or damaged during the moving process, sort and pack them out yourself carefully.
3. Pack Clothes in the Most Efficient Way
Different people use different techniques to fold and pack the clothes in suitcases but the one which allows you to save the space and pack more is the "rolling method".
It involves rolling your clothes into small cylindrical shapes instead of folding them the conventional way, which certainly looks elegant, but aesthetics is not the primary objective here of course.
Another way to save time while unpacking is to fold the clothes with hanger.
In this way, all you'd need to do is to pull out the hanger and arrange the new closet in no-time.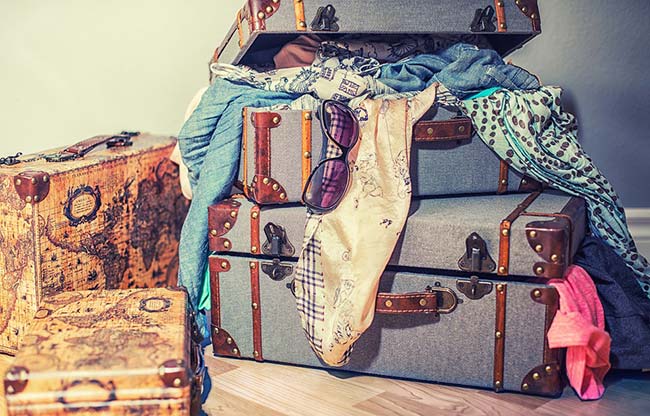 4. Do Not Place Expensive Items in the Suitcase
Suitcases are roughly handled in the shifting process hence it is not at all a good idea to place expensive items and electronic gadgets inside them.
The best practice is to keep them in your handbag which will ensure that no irreparable damage is done to sensitive gadgets such as laptops, iPads among other things.
Also, it is highly advisable to keep important documents such as property papers, educational/medical certificates or prescriptions with you in the handbag for the ease of conveyance and use.
5. Furniture Disassembling & Packing
One of the hardest parts of moving is to move the bulky and voluminous furniture.
In case of furniture, it is advisable to disassemble furniture and move it in parts rather intact.
Again, the process needs deliberation as it may cause hassle if proper parts are not packed and shipped together and they end up getting mixed with each other.
For the sake of efficiency and convenience, this phase of moving should be dealt with days before the D-day.
6. Pack Cables & Remember the Configuration
If you want to take the complex task of reassembling electronics yourself once you get settled in your new house, you'd want all the cables to be in the right place.
Hence, you should spend extra time in folding and placing the cable in the right manner so that they might not get tangled during the process.
Another important thing is to remember the configuration of wires when you want to, say reconnect your television.
It is recommended to take the picture of the original configuration before removing the cables as it would be immensely helpful during the difficult task of putting it together.
7. Arrange the Material Needed for Packing Beforehand
For small items such as kitchen utensils and stationery, you'd need enough supply of cardboard boxes, plastic containers, bubble wrap, cello tapes, and newspapers.
Make sure you have these supplies already before you start packing or it is just going to get difficult to ask someone during the process and go and arrange the requisite item.
Needless to say it is inefficient as the entire process is just going to stop because of it.
8. Packing Glassware Safely
For sensitive items made of glass and ceramic, the best practice is to use bubble wrap to absorbs the shocks of traveling.
Another thing which could be done to ensure the safety of such equipment is to make multiple layers using clothes and newspaper.
If you are using a cardboard box to pack them, fill the gaps in between the items with newspapers to avoid them from colliding and cracking during the moving process.
9. Mark & Categorise the Packed Items
The process of packing should be given more deliberation, time and effort so that the trouble of unpacking could be relatively reduced.
One important step toward this end goal is to properly categorise the packed items and clearly mark them using a bold marker.
It will drastically cut down the unpacking time and help you access something you want in case of an emergency.
10. Find a Professional Mover Service
Of course, you can pack and move your things on your own but ideally, it is best left to professional Essex removals companies.
It will certainly cost you few extra bucks but it will allow you to save yourself from the stress of the entire process and focus on the excitement of moving to a new place or mourn leaving the old one, whatever suits you.
While looking for a suitable mover online, reviews from people who have already availed services are particularly helpful.
Also, it is very important that you should carefully study the policy of removal companies before hiring so that any inconvenience can be avoided later.
After all, it is your property at stake which has both emotional and economical cost attached to it.
Moving to a new place in several ways is a stressful course but with a little deliberation and extra effort, it can be made smooth.
Just follow these easy tips and for the most part, you'll be good to go.