Many people think that public speaking skill is one of those skills that need to be mastered by only those people who speak on stage on a regular basis.
But that's not true.
Whether you make presentations in front of a group or not, good public speaking skills can still help you in boosting your career and creating better opportunities.
You might be called to give a speech after accepting an award in your company or you might be called on stage to talk about a topic at a business conference.
In such situations, you will need to use your public speaking skills and make your presence on stage appealing and bold.
Public speaking is not an easy skill to master since there are many things involved in it.
From the right tone of speaking to body language, there are many things that goes into public speaking.
You might be thinking that public speaking is limited to stage presence only but you need to know that public speaking becomes necessary even if you are communicating on the digital platform.
For example, when you will be guiding a team sitting at a distant location through video conferencing then you will need to have good public speaking skills.
In addition to the inability of not being able to speak in public, there are many people who are frightened of such a situation.
You will be dumbfounded to know that 75% of the overall population have a certain degree of fear of public speaking.
So, if you are one of those people who struggle with their public speaking skill then you have come to the right place.
In this blog post, we are going to address the different ways of improving public speaking skills.
Here is the list of some of the best tips that you can use in order to improve your public speaking skills.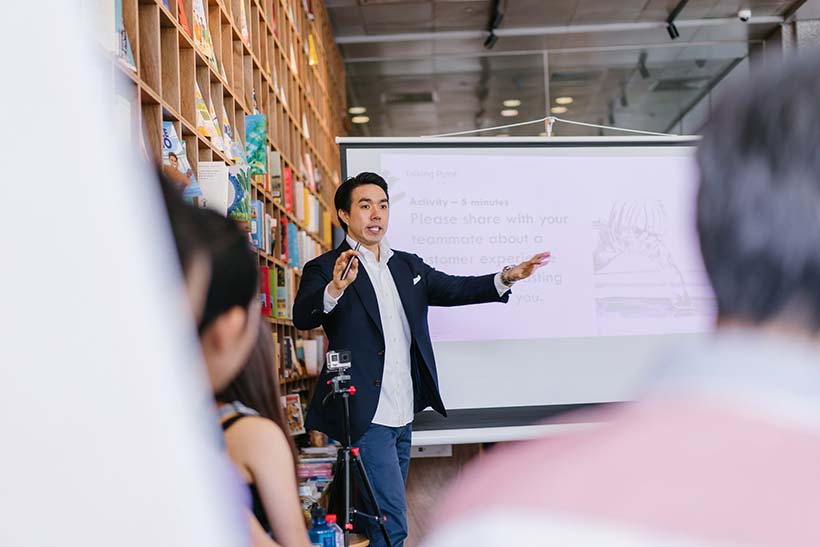 Prevent Nervousness Through Practice & Preparation
Everybody experiences common physiological reactions like trembling hands and pounding heart at some point in their life.
But you should never link these common symptoms with poor performance as these are very natural things.
And in some cases, these nerves are good.
You should know that these type adrenaline rush that makes you sweat also keeps your alter and allow you to give your best performance.
One of the best ways to overcome this type of nervousness is to practice and prepare until you perfect it.
You should go through the notes several times and practice your body language in front of a mirror.
This way, you will be aware about every word that you are going to speak and every that you are going to make on the stage.
This is very important because an effective presentation is 55% of non-verbal communication and 38% your voice.
Encourage Audience Participation
If you will just keep on speaking for the whole session then you are not going to catch the interest of the audience.
In order to make the audience feel engaged during the session, you will need to encourage them to participate but this is not applicable in each and every type of public speaking.
If you feel that you can ask questions to your audience during your appearance or invite them on stage for a short note or experiment then it will fuel your appearance.
If the audience will feel engaged then they will be more interested in listening to you.
If you are dealing with a very big audience then you can mention a catch word that the audience can repeat in response to the points you will make.
This will keep the audience alert.
During the speech, you should always try to focus the shift from yourself to the audience.
Know Your Audience
Before planning your speech and deciding what you are going to do during your speech, it is very much necessary to know your audience first.
The speech is for the audience and that's why learning about them is very important before drafting the content and finalising your body language.
Instead of designing the speech according to your comfort, you should design it according to the type of audience you are going to face.
Interest, age, and gender of the audience, all these things are going to play the main role in how your audience will react to your speech.
Many people just prepare their speech on the number of audiences they are going to face but that's not the right approach.
It doesn't matter whether you are going to face an experienced audience or a novice audience, your speech should always be holistic enough to keep everyone engaged.
Think Positively
Positive thinking can be the difference between a successful speech and an unsuccessful speech.
If you will stay positive throughout your public speaking session then the end result will always be good.
Fear leads into a cycle of negative self talk, especially just before you start speaking while self-sabotaging like 'I will never be able to deliver a good speech'.
Such type of thinking puts you in a negative state and you are not able to deliver what you are capable of.
You can use both visualisation and affirmation to build your confidence.
This should be practiced just before your presentation.
Visualise giving a successful speech and imagine the feeling of getting down from the stage with a huge round of applause.
Such type of thinking will keep you positive throughout the speech.
Learn from Recordings Your Speeches
If possible then you should try to record your speech.
You can improve your public speaking skills just by watching your previous recording of speeches and learning from the mistakes.
Learning from your own mistakes is the best way to improve yourself.
While watching the recordings, you should look at the awkward pauses that you make during the speech and note down the words where you stumbled.
By working on these flaws, you will be able to make your speech almost perfect.
Author Bio
Saurabh Gupta is currently working as a senior content writer at MyQBHost, a QuickBooks cloud hosting provider and the two things which matters the most to him is technology and writing.
Cloud computing, Artificial intelligence and cybersecurity is what he loves the most.