There is no need to replace your whole kitchen to give it a facelift.
Simple and rather effortless replacements can still make a huge difference to its look.
One of these things is to change the handles and hardware.
Besides it is evidently more affordable too.
You could also spray paint the cabinets, and/or opt for worktop overlays too.
All of these will make your kitchen look much different, at a fraction of the cost.
First off, one of the things that are mostly subjected to wear and tear are the hardware, the handles, knobs and pulls.
Older designs can also date very quickly too! Just imagine how many times you opened and closed the doors and drawers.
No wonder that they appear worse for wear.
Besides there are so many different styles to choose from nowadays, that the sky's the limit when it comes to replacing handles and knobs.
There are lots of different styles, finishes, shapes and colours to choose from, so you may wish to take into account your personal preferences so as to narrow down the choices a bit.
It will also depend on the style of your kitchen.
The more modern a kitchen is, the more room for originality there is going to be, both in terms of orientation, as well as angles.
However, do bear in mind that if you are going to install the handles in a rather untraditional manner, you may need to touch up the doors or drawers so hide where the previous handles were.
Nowadays bar pulls are among the most popular choices when it comes to handles for modern and contemporary kitchens.
These tend to be really long and wide, and definitely much more sturdy.
Bolts and knobs may sometimes be preferred to handles, especially in vintage kitchens or for those who prefer minimalist designs, but you will need to take into account the width of the drawer or the length of the door, so as to see if they are feasible enough when it comes to opening and closing easily.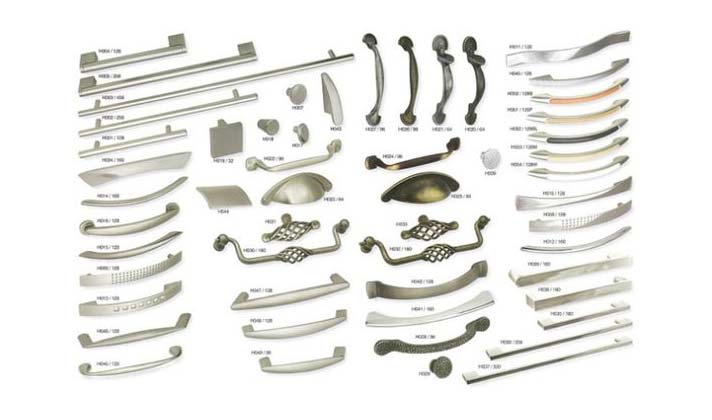 When it comes to replacing the kitchen hardware make sure that you buy ones of the same size.
In that way you will avoid the problem of having any parts not being properly covered up, leading to the need to retouch your cabinets unnecessarily.
The spacing of the screws and the hinge overlay, will need to be taken into account when buying the new hardware.
This will make things much easier when it comes to installing them.
So make sure to remove all of the parts and to take them with you when going shopping for new hardware.
To remove the old hardware all you will need is a screwdriver, or a cordless drill to make the job even faster.
So remove the door or drawer, and then unscrew the hinges and the handle.
It is a good idea to buy some extra handles just in case.
Then, simply start to screw the new hardware to each cabinet door and drawer.
Rehang them by screwing the hinges to the frame of the cabinets, and that is about it!
You will be amazed at how much difference those little new handles make to give you the ultimate in low-budget kitchen makeovers.
External Resources Used
The editor would like to personally thank the following websites for using their material in the creation of this blog post: